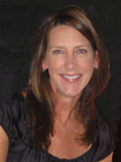 Maureen has been a Personal Chef in Baltimore for 7 years. She has been featured in both "Baltimore Magazine" and "Style Magazine" and has been a judge for Iron Chef competitions.
She grew up in Southern California and owned a small business supplying desserts to restaurants in the early '90's. Maureen further developed and mastered her skills in highly regarded restaurants such as Montrio Bistro and Fresh Cream in Monterey, CA. Maureen has always had a passion for cooking but has never strayed from her passion for health. The culmination of these two passions inspired Maureen to start her Personal Chef Company.
When Maureen is not cooking or testing new recipes on her family and friends, she's running, cycling and practicing yoga. She attributes her understanding of nutrition to some of her fitness success.
Maureen approaches cooking and health from a balanced perspective that promotes health and well being not only for the client, but also for the environment. Maureen tries to source most of her ingredients from local purveyors, which means the food is friendly to the environment, but is also in season, fresh and most often times organic.
"My wish is simply this: through my work I hope to help rekindle the ritual of gathering around the table in the spirit of family, in the lightness of love and the intent of nourished bodies."